Time for some pictures....
By the time I could find a minute to take photos after work, I had already pretty much lost the sun! (That bowl was a wedding gift to my great-grandmother, it's one of my most special possessions)
"Mom? Did you put that bowl down for me?" Miss Stella Belle, my little gray tabby, just has to investigate.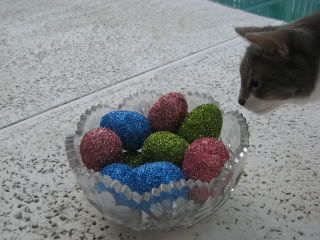 Remember that herb garden I droned on about last month? Here it is. When I planted it they were 5 distinct little plants (basil, mint and cilantro in 1 pot, dill and chives in another). I call it my pots of "future mojito, future pesto, future salsa", etc....)
The kitties have found something more interesting out in the yard. That squirrel looks delish! (Stella and her big brother, Simon--my sweet little black cat.)